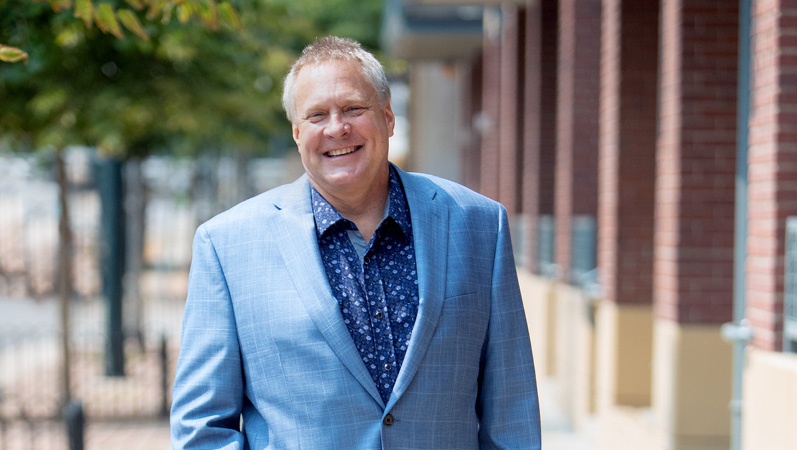 After nearly 25 years as a music business executive and a decade building a top real estate team in Los Angeles, Jim Stein recently joined the Usaj Realty team and brings along a bevy of experience.
Known for his tenacious but fun-loving nature, he aspires to establish himself as a top broker in Denver. While in LA, he built a luxury residential real estate company from the ground up and in less than 10 years, Team Stein developed into a top residential real estate group. Prior to turning his attention to real estate, he held a variety of jobs in the music industry.
Jim is excited to show his talents in the lively Denver Metro real estate market. Here's a bit more information about his background and perspective on the Denver housing market.
Q. Tell me a little about yourself.
I grew up in Connecticut about 30 minutes outside NYC, but spent most of my adult life in Southern California. As a kid and teen, I loved the NY Rangers and the NY Yankees and both hockey and baseball became my passions. I graduated from the University of Tennessee-GO VOLS! I am divorced with 3 kids.
Q: Did your childhood/growing up have any bearing on your getting into real estate? If so, tell me about your experience.
Not particularly. My father was a salesman and my mother was the head of a bank. So, I grew up around sales and finance. Balancing a checkbook was how I learned addition and subtraction!
Q. Have you had other careers before becoming a real estate broker? If so, what were they and how has that experience impacted your real estate career?
I had a 23 year career in the music business, starting as an intern in the mailroom and working my way up to a VP for various record labels in LA. Pretty much everything I learned in the music business (sales, marketing, negotiations, finance) translates directly to the real estate industry.
Q. How did you get interested in real estate?
I have always had an interest in real estate. I would actually go to open houses on Sundays in LA, just to see the inside of mega-mansions in Bel Aire, Malibu, and the Hollywood Hills.
Q: Talk about the Denver real estate market generally and what makes it exciting for you.
Denver is an ever-changing market and the strategies you are using today can change on a dime. Although the price point is drastically different from my LA real estate days, you still are dealing with clients who are making a life decision concerning their biggest financial asset. Assisting a client to make the correct decisions while searching for their "Dream Home" is truly a spiritual high for me.
Q. What has been your biggest accomplishment during the pandemic?
After almost 20 years of doing real estate, I recently, for the first time, helped a client go under contract without either one of us stepping foot inside the home. Every step to get her under contract was done virtually.
Q. What particularly challenging real estate hurdle did you overcome?
When I was fairly new in the real estate biz, I had a client who was an up-and-coming TV executive. He is actually the person who "green-lighted" Modern Family. He's obviously wealthy now, but at the time he was living in a tiny two bedroom home with his wife and two small children. The goal was to sell his current home, find and purchase his next home, close the transactions within the same 24 hour period, all the while he was traveling for business in Europe. We were communicating and making big decisions constantly in the middle of the night. I still can't believe we actually got this transaction completed.
Q. Any hobbies or pursuits that you'd like to share?
Before the pandemic, I was playing hockey weekly and going to many live concerts. Currently, I have three personal goals I want to accomplish before a vaccine is discovered: I want to learn how to jump rope like a boxer, learn how to play the ukulele, and read one book per month.
Q. What are your go-to apps and why do you need them?
For real estate, it's Realtor.com, Zillow, Follow Up Boss and Homesnap. Personally, Calm (it's in the name), Waze (GPS), Sirius XM (music) and Teamsnap (my kids' sports teams) are apps I use daily.
Q. Who or what provides the most inspiration for you?
My 3 children!! My teenage daughter, Payton and my 2 boys, Anderson and Cooper. They're the reason I keep pushing forward and try to improve myself daily. The more knowledge I get, the better father and agent I become and it all leads to more business income and a better life for my kids.
Q. What's currently on your nightstand (reading material)?
I just finished "The Compound Effect" by Darren Hardy. I'm currently reading "Ninja Selling" by Larry Kendall and I'm re-reading, after two decades, "The Celestine Prophecy" by James Redfield.